NOTICE: Internet Explorer will be retired by Microsoft and go out of support on June 15th. This could change how you access Online Banking.
Press Releases
Visit our Investor Relations site to view our latest Press Releases.
Media Contact
John Iannone
Senior Vice President, Investor & Public Relations
Phone: (304) 905-7021
Email: jiannone@wesbanco.com
About WesBanco
Founded in 1870, WesBanco, Inc. is a diversified and balanced financial services company that delivers large bank capabilities with a community bank feel. Our distinct long-term growth strategies are built upon unique sustainable advantages permitting us to span six states with meaningful market share, maintained by exceptional customer service. Reflecting our strong legacy of credit and risk management, we have earned a national reputation as a safe, sound, and profitable bank holding company.
Built upon our 'Better Banking Pledge', our customer-centric service culture is focused on growing long-term relationships by pledging to serve all personal and business customer needs efficiently and effectively. We offer a full range of online and mobile banking options; a wide variety of business and personal transaction account options; competitive business and personal lending services; and a full suite of commercial banking products and services. In addition, WesBanco provides trust, wealth management, securities brokerage, and private banking services through our century-old Trust and Investment Services department
WesBanco's banking subsidiary, WesBanco Bank, Inc., operates financial centers in the states of Indiana, Kentucky, Maryland, Ohio, Pennsylvania, and West Virginia. Additionally, WesBanco operates an insurance agency, WesBanco Insurance Services, Inc., and a full service broker/dealer, WesBanco Securities, Inc.
WesBanco, Inc.
1 Bank Plaza
Wheeling, WV 26003
(304) 234-9000
(800) 328-3369
Facts & Resources
Broad and Balanced Market Distribution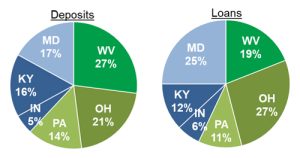 Loan and deposit data as of 12/21/2021.
Profile & Fact Sheet Fourth Quarter 2021
View the WesBanco Profile and Fact Sheet
Better Banking Pledge