NOTICE: Internet Explorer will be retired by Microsoft and go out of support on June 15th. This could change how you access Online Banking.
Next-Level Business Banking Services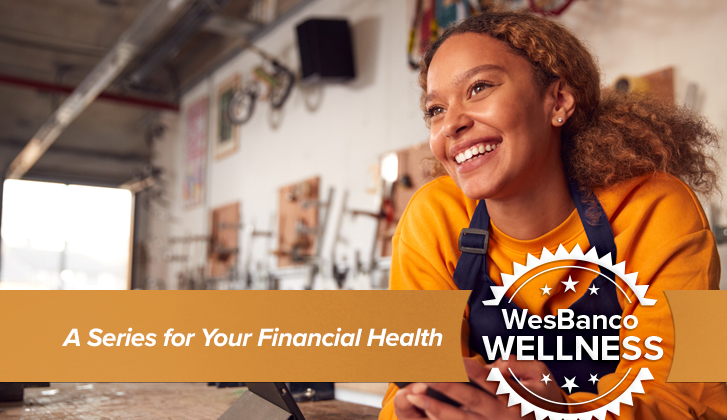 Welcome to WesBanco Wellness: a Series for Your Financial Health. Here we will tackle budgeting, debts, safe web practices and more to help get you into the best financial shape of your life.
Small business owners know what it takes to get started and succeed—choosing the right business banking partner is essential to grow and thrive. That's why you should choose a bank with small business solutions that are personalized to your business model and industry. You'll want a bank that takes your business as seriously as you do and offers a variety of customized services that go above and beyond daily transactions, while also providing small business support in every aspect of financial wellness.
Small Business Solutions to Manage and Accelerate Cash Flow
When you choose a banking partner with a treasury management team, you'll be empowered to improve your business's operations and mitigate fraud and other risks. Business banking services should include online account management, cash flow acceleration by streamlining receivables and payables, payroll efficiencies and ways to maximize FDIC coverage. These financial services can work to enhance your working capital and get your business ahead. When you invest in setting up a holistic business money management system, you'll have a better outlook on where you stand in your financial landscape. Read on to explore small business banking solutions that support your company's growth and goals.
Business Money Management
Reducing costs and time spent on paperwork is at the top of every small business owner's to-do list. A comprehensive business account management solution can make that a reality. You'll also want state of the art security with multi-factor authentication and the flexibility to have control over your transactions. Cash flow management should be simple and save you time. That's why a comprehensive set of services is so important. Let's start with what you should expect from an accounts payable service:
ACH Credit Origination: Electronic cash flow management is key for streamlining accounts payable, reducing errors and fraud risk. Small business solutions from WesBanco include digital efficiencies with self-service electronic payments that are fast, safe, and put you in control of your outgoing cash flow. You can improve forecasting and save on postage. And this service also reduces your risk of fraud and lost or stolen checks.
Wire Transfers: If you're on the go and hustling to grow your business, wire transfers are a must. Submit requests from wherever you are with strong internal controls like delegating certain employees to initiate requests. WesBanco's wire transfer service also offers a lower cost per wire and domestic same day settlements in the US.
Business Credit Cards: You're going to have daily business expenses. That's a given. The more you can benefit from your purchases, when using one card consistently, the better. WesBanco's Business Real Rewards Card is one way to make the most of your purchases.
Line of Credit: Small business owners like you know that cash flow can fluctuate due to the economy, seasonal business and even the weather. So, make sure your small business support includes lines of credit to smooth out the ups and downs of cash flow.
Bill Payment Services: Bill payment provides a quick and easy way to pay all your bills. Set up recurring and one-time payments to anyone. Provides an audit trail for easy reconcilements.
Managing the money that's going out is important, but what about the money coming in? Accelerate small business banking with these important accounts receivable features:
ACH Debit Origination: This electronic service allows business owners more control over cash flow, reduces costs and enhances security. ACH Debit Origination allows you to control the timing of receivables by electronically drafting customers' accounts at other banks and depositing the funds into your account.
Remote Deposit Capture: Deposit checks when you receive them by scanning and uploading checks.
Merchant Processing: This business banking solution is efficient and cost effective. Leverage versatile purchase processing options—mobile, instore or online—for convenience wherever you do business.
Lockbox: Offered to WesBanco business partners, Lockbox allows your customers to mail their payments to a centralized address and then WesBanco takes care the rest. Get fast and secure processing that works with your busy schedule.
Small Business Banking Services that Go Beyond the Basics
Growing businesses require banking services that can grow with them. So, if you're thinking beyond business account management, the financial institution you choose to partner with should offer scalable options for growth like liquidity management, fraud prevention and business retirement planning.
Liquidity Management: This small business solution is designed to simplify the short-term investment of your account balances. You can save more money or pay down loans without ever thinking about due dates. Think about using a tool like ICS, the Insured Cash Sweep® service. With ICS, you can earn interest on funds placed into money market deposit accounts—while maintaining access to your funds should you need them.
Fraud Prevention: It's essential to keep your business funds secure and reduce fraud risk. Fraud prevention services are critical as criminals become more sophisticated. Positive pay services can prevent against check fraud by comparing checks against an electronic record of checks that have been legitimately issued by your business. This allows your business to manage check verification and simplify daily processes.
Business Retirement Planning: As a business owner, you want what's best for your future and the future of your employees. Which is why you should consider partnering with a bank that offers employer-sponsored retirement plan options. At WesBanco, as your business grows and prospers, we can offer you and your employees a wide range of financial planning, investment and insurance services through our wealth management and insurance companies.
WesBanco's Small Business Support
Starting a small business takes heart, grit and a sense of community. WesBanco is a community bank with a focus on building and supporting small businesses. That's why we're proud to offer a host of services to back your venture from the first day you open the doors. Our scalable business services grow with you, so when you do open that second location or hire a new wave of employees, we have what you need to make the most out of your banking every day.
Learn More about WesBanco's Business Banking Options
Explore Business Banking Options
Content is for informational purposes only and is not intended to provide legal or financial advice. The views and opinions expressed do not necessarily represent the views and opinions of WesBanco.