Prep Your Seasonal Business for the Busy Season

Every small business owner understands that running a seasonal business during the holidays comes with its own special set of challenges. From timing your marketing efforts to staffing, the busy season is something to prepare for and learn from in order to better manage your finances and turn a profit. Our tips make planning for the busy season simple and ensure you reach every seasonal financial goal.
Review Your Digital Presence and Marketing Tactics
When you start prepping your seasonal business financing, don't forget about your digital storefront. Update all hours on social media sites and refresh your website with any new information. You'll also want to start marketing to let customers know you're open, offering new inventory or services and running any promotional deals. Start posting on social media and connect with other media outlets in your community to get the word out early.
Chart Past Years' Patterns
After every busy season, you should always take stock of what you did differently and if it worked. Changing and evolving is important for every business. Trying new strategies is a must, but don't repeat patterns if you didn't see an increase in profit or productivity. Reflecting on past years' patterns can influence everything from staffing during certain days of the week to inventory and marketing techniques.
Revise and Set a Busy Season Budget
It's also important to have a reliable business banking partner who understands the ebb and flow of a seasonal business. The right banking partner can help your business grow by offering the right advice for your business like how to manage finances during both slow and busy seasons. Updating your budget is an ideal place to start when prepping for the upcoming rush.
If you haven't already, review your sales and expenses from last year's busy season. This will give you a good idea of where you fell short, so you can make adjustments for this year. Check for overpurchased inventory, understaffed time periods or unexpected expenses. Revising these areas of your business will allow you to better maximize your profits.
You also want to revise your slow season financials. Look at last year's losses to influence the amount of a short-term business loan or line of credit you qualify for during slow months. Your business banking partner will help you choose the right loan for your needs.
Seasonal Business Financing
As a seasonal business owner, you understand that turning a profit in one season means you need support the remainder of the year. This is especially true when your business starts to ramp up production for the busy season. Securing a loan or line of credit will ensure you have the extra capital needed to cover expenses.
Short-term business loans are designed to provide businesses with the capital they need to grow – no matter what season you're in. WesBanco's business term loans are flexible, secured or unsecured and are available with fixed or adjustable interest rates.
WesBanco's business lines of credit are tailor made for seasons of growth, too. A business line of credit will give you access to short-term funding, so you can draw the cash you need when you need it. Consider leveraging a line of credit to cover working capital in off seasons, too. In fact, WesBanco's commercial lines of credit are eligible for use on most business expenses.
WesBanco's FlexLine is a revolving line of credit, so whatever you spend of the total amount of the line becomes available to borrow again after you repay it. Both business loans and lines of credit are ideal to support small to mid-sized seasonal businesses throughout the fiscal year.
Start Staffing Early
Finding the right talent for your busy season is essential to a profit-yielding year. So, don't waste any time getting the search started. Use last year's audit to make sure the busiest times are fully staffed. Also, consider offering incentives to returning workers. It's also a great idea to start interviewing early for your seasonal business so that your crew is well-staffed and trained for the season.
Thinking about different ways to finance seasonal hiring during the holidays or other busy seasons? A short-term business loan can help with that, too.
Seasonal Business Financing Support from a Trusted Partner
Getting ready for the busy season, especially during the holidays, take grit. It also takes a business banking partner that's reliable, dependable and understands your unique needs. Our short-term business loans and business lines of credit will keep you moving through every season of your business. When it comes to business banking during the busy season, we're here to help.
Learn More about WesBanco's Business Loan & Credit Card Options
Explore Business Lending Options
Content is for informational purposes only and is not intended to provide legal or financial advice. The views and opinions expressed do not necessarily represent the views and opinions of WesBanco.
Limited Time Credit Card Offer
For a Limited Time 0% intro APR* for the first 20 Billing Cycles!
Personal Credit Cards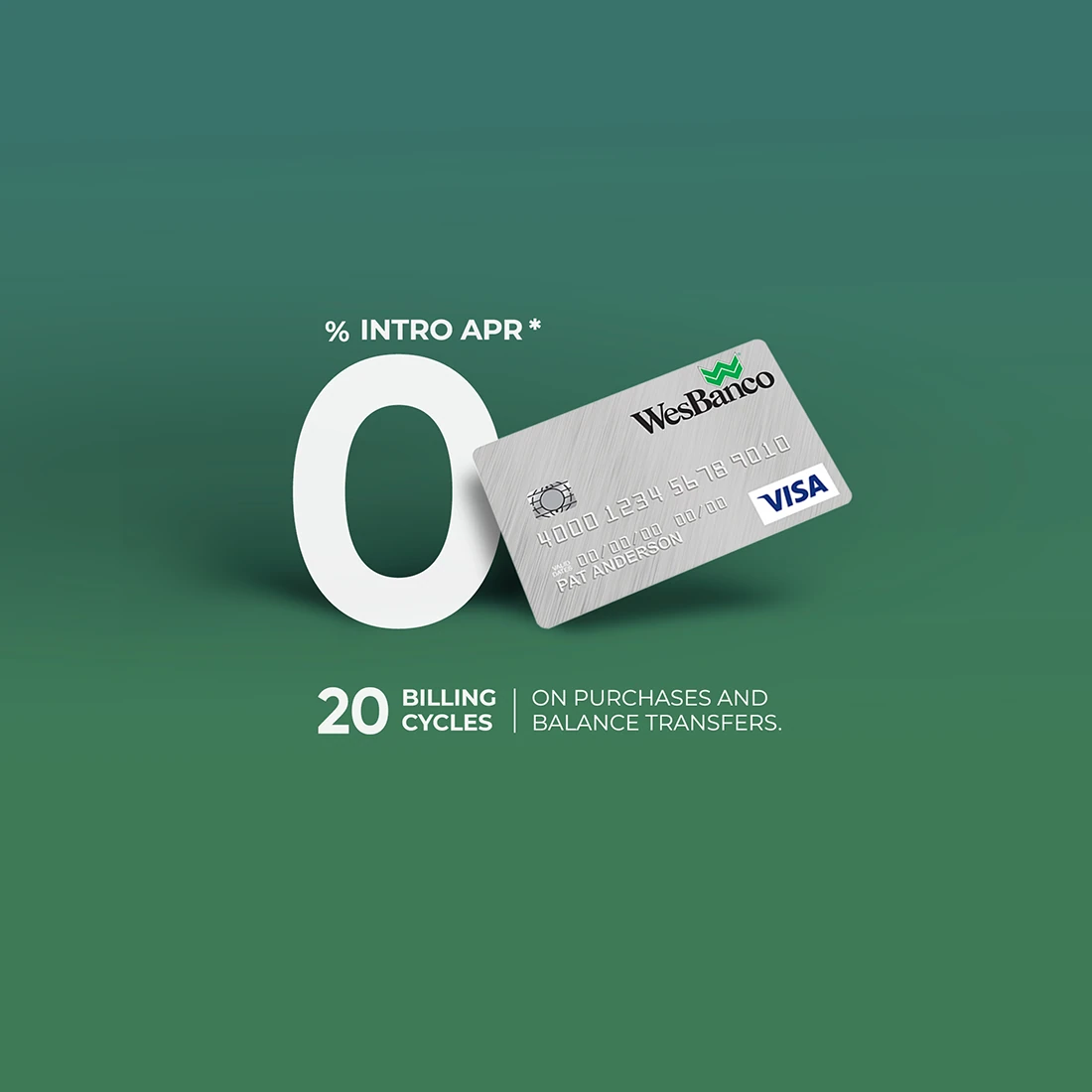 Limited Time Offer 0% Intro APR* for
20 Billing Cycles