The 12 Pillars of Consumer Protection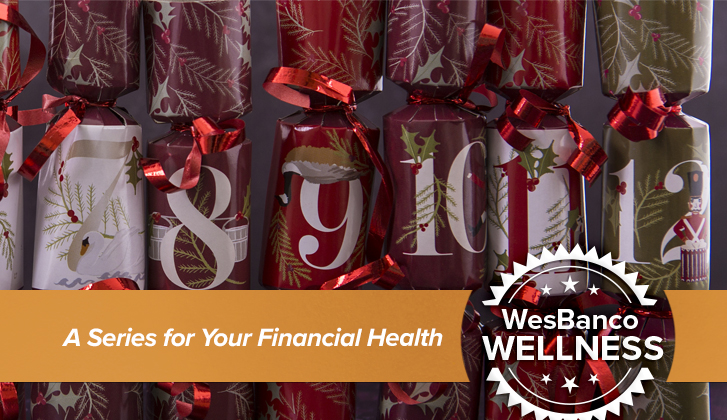 Welcome to WesBanco Wellness; a Series for Your Financial Health. Here we will tackle budgeting, debts, safe web practices and more to help get you into the best financial shape of your life. In this special holiday edition, we would like to present to you the FTC's 12 Pillars of Consumer Protection.
Through out this series, we will cover a variety of topics — from shopping online and bogus shipping notifications to temporary job scams and fake charities. We'll give you practical information you can use every day and share with your family, friends, and community so they can be safe too.
The first Pillar of Consumer Protection is just an introduction. This holiday season will look very different as we seek to spend (sometimes virtual) time with loved ones, while staying safe from COVID-19. Follow along with us to help you keep your money and information safe from scammers who want to cash in on holiday spending and giving. And then share the posts and the graphics with people you know.
Hawking in a Winter Wonderland
For the 2nd pillar of Consumer Protection, it's all about online shopping. Because that's what we can do this year, right? (OK, it's a lot of what we do any year.)
If you're spending some of your hard-earned money online, make sure you know where it's going. Because it's pretty easy for scammers to put up a fake website that looks a lot like a real one. A scam website may show up in your search results, or scammers may send you a phishing email that looks like it came from a company you trust, but actually takes you to a rip-off site. They'll be happy to take your money and leave you with nothing. So:
Instead of clicking on a link, say in an email, type in the store's URL yourself, so you know where you're headed.
Only pay on sites with URLs that starts with https. That 's' means your transaction is encrypted…but scammers know how to encrypt, too. So don't believe that a site is the real deal just because the site uses encryption.
Pay by credit card. It gives you way more protections if something goes wrong.
Check out more about how to shop safely online.
But the Hire Is Not so Delightful
For the 3rd Pillar of Consumer Protection, we're talking about earning some extra cash.
For lots of us, the holiday season is a good time to pick up some part-time work. It's when retailers and delivery services need extra help. And, especially during the pandemic, many of us could use the cash. So how can you spot and avoid a job scam, whether for a temporary or permanent position?
Don't pay to get the job. Scammers may say they have a job waiting for you, or guarantee you a position, if only you pay them. (Maybe for a certification, maybe for training materials, or something else). But no legitimate job will require you to pay out-of-pocket expenses or fees to get the job. Anyone who does is a scammer.
Never give your personal info up front. Some scammers will try to get your credit card, bank account, or Social Security number as soon as you're in touch with them. But that's a scam.
Do your research. Before you apply for a job listed on a social networking site or in an online ad, search online for the name of the company plus the words, "review," "complaint," or "scam." Read reviews by former employees. If the news is bad, or very little about the company shows up, that's a red flag telling you to move on.
Holiday "Grift" Exchange
It's the 4th Pillar of Consumer Protection and 'tis the season of…gift cards. Even in Santa's workshop, it's one of the most popular ways to give to family and friends for the holidays. But gift cards also are a favorite way for scammers to steal people's money. Anyone who demands that you pay them with a gift card, for any reason, is always a scammer. Simply put, no matter what the story is, never pay with a gift card.
Back to the fun stuff: Giving gift cards. Here are a few things to keep your season merry and bright:
Buy gift cards from sources you know and trust. Think twice about buying gift cards from online auction sites, to avoid buying fake or stolen cards.
Inspect gift cards before you buy. A gift card should have all its protective stickers in place. Report the card to the store if anything looks scratched off or damaged.
When you buy, save the receipt. Keeping the gift card receipt can be helpful if you run into problems with the card.
Treat gift cards like cash. Report a lost or stolen gift card to the card's issuer immediately. Most card issuers have toll-free numbers you can find online to report a lost or stolen card. Depending on the card issuer, you may even be able to get some money back.
Fa-la-la-la Fake
For the 5th Pillar of Consumer Protection, you get an email or text message that's supposedly from UPS or FedEx, complete with one of their logos — and it seems legit. It says your item is ready to ship but you need to update your shipping preferences. But here's the lump of coal: the message is bogus and there is no package. Scammers are phishing for your information. And if you click on a link or download the attachment, you're likely to end up with a virus or malware on your device that steal your identity and your passwords.
Avoid any holiday reindeer-livery confusion and follow these tips:
The weakest link. Don't click. If you get an unexpected email or text message, don't click on any links — or open any attachments. If you think it could be legit, contact the company using a website or phone number you know is real. Don't use the information in the email or text message.
Mal where? Guard against malware. Make sure you keep your software up to date. Set your security software, internet browser, and operating system (like Windows or Mac OS X) to update automatically.
Avoid a Season of Mis-Giving
It's the 6th Pillar of Consumer Protection, and maybe you're in a giving spirit. 'Tis the season, right? If you like to donate to charities at the end of the year, 'tis also time to make sure your donations get to the places you mean them to go. Because this year, lots of charities could really use the help.
As you're getting those year-end emails and phone calls from charities:
Don't be rushed into giving. Yes, it's the end of the year. But legit charities will be happy to take your money whenever you choose to give it.
Check out the charity before you give, especially because scammers love to use names that sound like real charities you've heard of. Use these organizations to help you do your research.
If anyone tells you to pay in cash, with a gift card, or by wiring money using a company like MoneyGram or Western Union, stop. That's how scammers ask you to pay.
In case, like the Grinch, your heart grows 3 sizes bigger at this time of year, take a minute to watch this video for a few more ideas on giving safely.
Grandma Got a Scam Call From a Reindeer
When it comes to unwanted calls, there are a few universal truths. First, you can't trust caller ID. Second, nobody likes a robocall. And third, it's all about call blocking. If you watch The Mandalorian, here's where you say, "This is the Way." (If you don't watch it, this just means: call blocking…it's good.)
For the 7th Pillar of Consumer Protection, watch this video to find out how to block scam calls — from scammy reindeer and others — on your mobile phone.
And visit ftc.gov/calls to learn to block calls on home phones, whether they're landlines or VoIP. Even better, share the call-blocking news with grandma and anybody else who might have complained to you about those annoying calls they're getting. And tell them happy holidays from the FTC.
Frosty the Con Man: Avoiding Family Emergency Scams
"Hello? It's me — Frosty. Look it's a long story but without my top hat, I'm melting. Please, I need your help — send money now or I'll be nothing but a puddle!"
OK, so that's a silly example and real imposters aren't funny. But, for the 8th Pillar of Consumer Protection, it's definitely worth remembering that scammers can be really convincing. And they don't take a break, even at this time of year. It's surprisingly easy for a scammer to impersonate someone to snow you. Networking sites make it easier than ever to sleuth out personal and family information. And they play on your emotions. Scammers are banking on your love and concern to outweigh your skepticism.
You might get a call or message supposedly from an out-of-town family member or friend claiming to be in an accident, arrested, or hospitalized. To make their story seem legitimate, they may involve another crook who claims to be an authority figure, like a lawyer or police officer.
What do you do if you get a message like this?
Stop – and check it out. Resist the urge to act immediately, no matter how dramatic the story is.
Call a phone number for your family member or friend that you know to be genuine. Or reach out to another family member or friend to check out whether what the message claims is true.
Don't wire money — or send a check, money order, or gift card by overnight delivery or courier.
Baby, I Stole Outside
You've finished your online shopping, your gifts have shipped and you're waiting for them to arrive – but some Grinch decides to ruin your holiday. For this 9th Pillar of Consumer Protection, we're talking about how to stop porch pirates in their tracks.
Every year millions of people have packages stolen right from their doorsteps. So what's the best way to stop them?
Require a signature. When your shopping cart is full and it's time to choose your shipping details, take a moment to check "signature required." A contact-free way to sign may be available through major package delivery services. You can request delivery confirmations, too.
Give specific delivery instructions. Many shippers will let you specify where to leave packages — maybe in your back yard, or even redirecting them to a trusted neighbor's address, if you won't be home.
Install motion activated lights. Outdoor lights with a motion sensor might make your home a lot less attractive to would-be thieves, making them much more visible than they'd likely want to be.
Santa Doesn't Need Your Social Security Number
This year, your holidays might be moving a bit online. For the 10th Pillar of Consumer Protection, maybe you're planning to send e-cards to family and friends. Or maybe your kids are writing their letter to Santa online, using a site that promises a customized letter back from Santa. Before you share your personal information — and certainly before you pay:
Check out the website. Do a quick online search for the site or company name, plus the words "complaint," "review," or "scam." What do people say about them? (Knowing, of course, that those glowing reviews could be fakes…)
Share only what you need to share. Does the site really need your home address, your age, or access to your contacts? And none of these companies needs your bank account or Social Security number. (Frankly, Santa probably already knows, so why would he ask?)
Don't click links in unexpected texts or emails. Nothing good comes of that. Instead, check them out first, and then type in the URL yourself so you know where you're headed.
Ignore calls for immediate action. Scammers try to get you to act before you have time to think. Take your time. Legit offers will still be there.
If you decide to move forward with your card or Santa letter, pay with a credit card to get the best protections. But only pay if the site's URL starts with "https." That means your transaction will be encrypted — but that, alone, doesn't mean the site is legit.
All I Want for Christmas… Is What I Ordered
You've probably spent a good part of this year doing some online shopping. Now that the holidays are here, you definitely want to be sure you — or your friends and family — actually get what you ordered. For this 11th Pillar of Consumer Protection, take these steps to help Rudolph find his way to your house.
Confirm that the seller is legit. Read reviews and recommendations about the product, seller, and warranties from sources you trust. Look for reviews about their reputation and customer service, and be sure you can contact the seller if you have a dispute.
'Twas the night before? Look carefully at the shipping date before you order. If there's no date given, the seller has 30 days to ship. If you're notified about a delay in shipping, you have the right to cancel the order and get a full refund. If you decide to cancel, let the seller know right away so you won't be billed.
Give them some credit. If possible, pay with a credit card — that gives you many protections under the law. If you pay with a credit card, you may be able to dispute certain charges — and temporarily withhold payment for those charges pending an investigation.
Track — and guard — your delivery. Keep a record of your order, including tracking numbers. That way you can see where your stuff is in the shipping process. Also, consider having your items held at the post office or delivered to a family member or neighbor in case you're not home. Some companies have their own secure locations where you can have your merchandise delivered. This protects you from having some Grinch steal your holiday right from your doorstep.
And a Smart Fridge in a Pear Tree
For the 12th and final Pillar of consumer protection — just of this series, you understand, not ever — here are a few reminders as you head toward whatever holiday you celebrate (or don't) this December. Whether you're shopping for a fridge that reminds you that you're out of milk (step OFF, appliances, I've got this) or some cozy slippers, remember:
Read the reviews. What are experts saying about the product you're after? Do they compare brands or versions of the product? Is tech ability needed to appreciate and use it?
Compare prices. Obviously, right? But online or in-person door-buster "deals" with low, low prices often pressure you to act quickly. So do some up-front work on what price neighborhood to expect, especially for higher-priced items. That way, you know what's really a good deal, and what's just lots of hype.
What about privacy? You know your comfort level with what your devices know about you. But if you're gifting, how would the recipient feel about, say, a connected watch that tracks her steps and encourages her to walk more? Might she, I don't know, set fire to that device after a few days? Or thank you SO much for suggesting that she ought to exercise? Theoretically, you understand.
Pay by credit card. You have the most protections when you shop (online or elsewhere) with a credit card.
We hope the 12 Days of Consumer Protection series helped remind you of a few ways to save money or protect yourself from scams. And we hope you shared the blogs and graphics with your network. And it's not too late! Share on — and if you spot any of these scams, tell the FTC at ReportFraud.ftc.gov. Happy holidays!
Explore WesBanco Insights
Discover how WesBanco can help you prepare for the road ahead. Gain exclusive insights and learn how to achieve your financial goals.
Education & Insights