Tracking Your Joint Expenses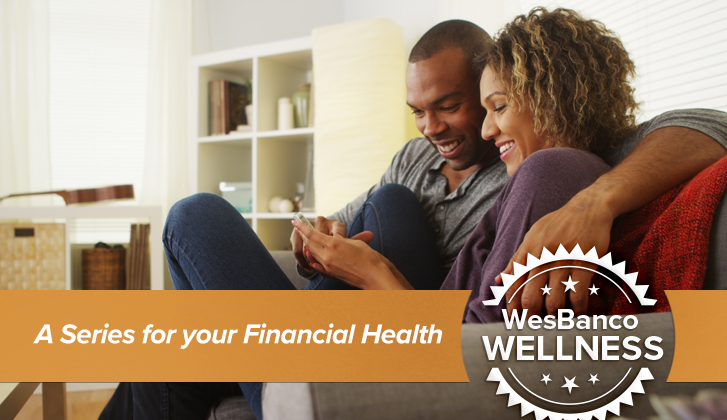 Welcome to WesBanco Wellness; a Series for Your Financial Health. Here we will tackle budgeting, debts, safe web practices and more to help get you into the best financial shape of your life.
It's hard enough keeping track of your own expenses. So you shouldn't be surprised that managing money as a team effort can test your patience, especially if your partner has a different method of keeping financial records—or worse, no method at all.
In some ways, it's easier for you today than it was for your parents or grandparents, who could keep track of how much they had in their checking accounts only by balancing their checkbook. This meant writing down every deposit and withdrawal to add or subtract from their total. Thank goodness modern banking has evolved to make it much easier.
These days finding out your balance is as easy as checking your account on a mobile app, on your computer, or at the ATM.
If you find keeping accurate track of what you spend challenging, a digital spending tracker might be helpful.
But tracking expenses isn't about realizing that your balance is $300 less today than it was yesterday. It's knowing where the $300 went and whether that spending is in line with your plan.
Tracking Tools
If you find keeping accurate track of what you spend challenging, a digital spending tracker might be helpful. Most basic functions on apps or websites are free, but some have add-on features designed to provide more options or insights that you'll need to pay for.
It's worth it to take the time to compare some of the available options. Choosing one that you're comfortable with, and that presents information in a way that makes sense to you, will make a big difference in how useful you find it.
Once you've signed up, spend some time figuring out which type of information will help you best. For example, you can usually select whether your spending is organized by category or by cash flow.
Category:
Amounts you spend are allocated to different types of expenses, such as groceries or phone bill.
You get alerts when you're approaching the limit you've designated for that category.
Cash Flow:
When cash is added to your account, the app automatically deducts your regular debits, such as what you'll pay for housing or utilities when those amounts are due.
When you make purchases, those amounts are also subtracted. This keeps you aware of how much cash you really have available to use, not just what's in your account.
For some people, seeing how much they're spending on clothing and shoes on a monthly basis is enough to help them slow down the shopping. For others, seeing the dollar amount available for discretionary spending is all they need to curb their spending impulses. And for some couples, the information is enough to make them realize they need to reduce large set costs, which might mean moving to a smaller apartment or leasing a less expensive car.
Although it may be a difficult conversation, comparing your spending with your partner's may be a huge step forward in getting on the same financial page. This is especially true if you're sharing household expenses, with each partner responsible for specific categories.
WesBanco: My Spending Tool
You can keep track of these items with WesBanco's My Spending tool, available with Online Banking and the WesBanco Mobile app.
With our My Spending service, you enjoy automatic categorization of your transactions that give you a full dashboard of your spending, you can set spending limits & alerts and link outside accounts to create a one-stop digital shop for managing your finances.
The Buck Stops with One of You
Setting financial goals, developing a money management strategy, and following through on your spending decisions require a joint effort. But that doesn't have to be true about tracking your expenses. When you're dividing up your household chores, you might agree that one of you should take primary responsibility for monitoring spending in your joint account, paying the bills that are due, and confirming the balance is always positive.
Fixing Problems
If it turns out that one of you, or both of you, are not following the spending plan you agreed on, what's next? Chances are it means you're spending more than you had intended to on certain types of expenses or were unrealistic about what specific things would cost.
The best first step is to rethink the amounts you've allocated to various categories. For example, if transportation costs are higher than you planned, and there's no feasible way to reduce them, can you agree to cut back what you're spending on something else? Fixed expenses are the most difficult to adjust. For example, probably the only way to reduce your rent is to move, and that involves costs of its own. But other costs that are variable, like food and entertainment, are fair game.
Worst-case scenario is that one of you is overspending and unwilling or unable to change. It's a problem you'll have to face as a couple if there's any hope of your having a healthy financial relationship and future.
Content is for informational purposes only and is not intended to provide legal or financial advice. The views and opinions expressed do not necessarily represent the views and opinions of WesBanco.
While we hope you find this content useful, it is only intended to serve as a starting point. Your next step is to speak with a qualified, licensed professional who can provide advice tailored to your individual circumstances. Nothing in this article, nor in any associated resources, should be construed as financial or legal advice. Furthermore, while we have made good faith efforts to ensure that the information presented was correct as of the date the content was prepared, we are unable to guarantee that it remains accurate today.
Neither Banzai nor its sponsoring partners make any warranties or representations as to the accuracy, applicability, completeness, or suitability for any particular purpose of the information contained herein. Banzai and its sponsoring partners expressly disclaim any liability arising from the use or misuse of these materials and, by visiting this site, you agree to release Banzai and its sponsoring partners from any such liability. Do not rely upon the information provided in this content when making decisions regarding financial or legal matters without first consulting with a qualified, licensed professional.
Looking for Savings?
The perfect companion to your WesBanco checking account. All of our accounts are available with a Companion Savings account with no minimum balance requirement or monthly maintenance fee when monthly statements are combined and accounts have identical ownership.
Companion Savings